Real Profit Maker EA – BINARYFOREXEA
Forex Mt4 Expert Advisor
You will be able to download the product once the payment is completed (instant)
PLATFORM:

 

MT4
TF:

 

H1
PAIRS:

GBPUSD
MIN DEPOSIT: $1000 PER PAIR IN STANDARD ACCOUNT

HOURS: AROUND THE CLOCK
LEVERAGE: 1:500
IMPORTANT: YOU NEED A BROKER WITH REAL LOW SPREAD (SCALPING)
++
PLEASE READ TO THE END, THIS EA HAS A SPECIFIC HANDLING AND YOU MUST FIRST UNDERSTAND HOW IT SHOULD BE OPERATED.

Introducing the Real Profit Maker EA, a powerful expert advisor designed to maximize your trading profits.
This EA uses whale algorithms to analyze market trends and make profitable trades.
At first, the EA opens two trades of 0.03 to check the trend. Then, it sets the buying and selling points that Wales use to buy and sell, just like the EAs that banks and big companies use. It never buy/sell in one single trade, but instead uses between 6 and 9 trades per direction by going with or against the trend. It uses a progressive lot strategy because it is the most intelligent way to buy and sell.
After that, it will close all the BUY orders in block when it gets the profits and when the market change the trend (again in profit), will close all the SELL orders in block.


The EA concludes a buy/sell sequence (block) and restarts the process only once the previous cycle (block) is finished.
It is a high-frequency EA, very active and constantly operating. But if it takes some time to close one of the two blocks (Buy or Sell), don't despair, it will do it! Meanwhile, if for example it has closed a Sell block, and still keeps the Buy block open, it will start opening other Sell block again.
The strategy is to always work with blocks, it will close the profitable position first, then wait for market conditions to change before closing the other, while maintaining two open blocks at all times.
Real Profit Maker EA Hides SL and TP from the brokers(Virtual)!
A virtual TP-SL is always a better option than a visible TP or SL where your broker knows exactly what you will do.
Let´s see how our EA has performed !!
BROKER: ROBOFOREX PRO LIVE ACCOUNT 
LEVERAGE: 1:500 – SPREAD: 2
INITIAL DEPOSIT: $1000

+100 % IN 5 TRADING DAYS!!!




We have doubled our capital from Monday ($1000) to Friday ($2,089)
TOTAL NET PROFIT:
1089.76 DOLLARS IN 5 DAYS
MAX DD: 26.6%
INITIAL MONEY IN ACCOUNT:      $ 1.000
FINAL MONEY IN ACCOUNT:         $ 2.089
This is a huge profit, but to achieve this profit, you will have to follow one rule:
Withdraw the money on Fridays

And this is important:
The maximum you can let the EA run / test/ backtest is up to 10 days
, in other words, you must start running the EA on Monday and withdraw your profits on Friday without fail.
The EA is designed to work with an initial capital of $1000 and to withdraw another $1000. It is important that
you understand this: if you let it run for 2 weeks without withdrawing, it will not perform as expected.
So, how many days can I leave it without withdrawing?
If you placed it on a Monday and did not withdraw that Friday, you have until the following Wednesday to withdraw the profit. BUT!!!! THEN YOU WILL HAVE TO WAIT UNTIL THE FOLLOWING MONDAY TO START RUNNING THE EA AGAIN
How to withdraw your profits on Fridays?
You have two options to withdraw your profits on Fridays:
1. Wait for the markets to close, disable the Autotrading button, and withdraw your profits from your broker, leaving only the original $1000 in your account.
2. And this is the best way for us: If your broker does not allow withdrawals when the markets are closed, you can withdraw your profits at least an hour before market close. You only have to deactivate the Autotrading button, and withdraw. Additionally, you can manually close any open trades for added security and peace of mind. Then reactivate the Autotrading button and  you're good to go! Have a great weekend…
This is what happens in 7 trading days !!
BROKER: TICKMILL LIVE ACCOUNT 
LEVERAGE: 1:500 – SPREAD: 2
INITIAL DEPOSIT: $1000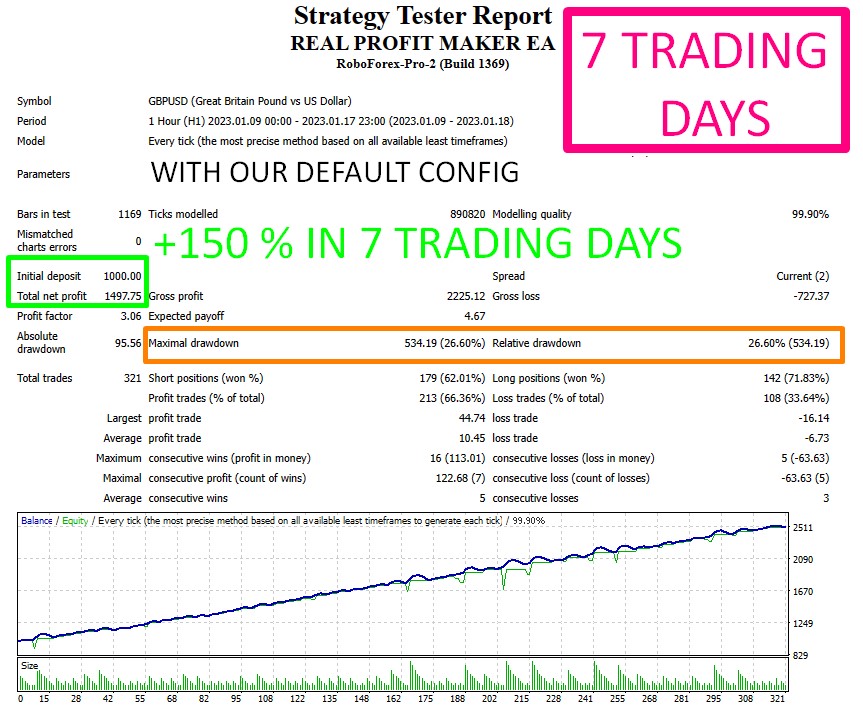 +150 % IN 7 TRADING DAYS !!!
TOTAL NET PROFIT:
1497.75 DOLLARS IN 7 DAYS
MAX DD: 26.6%
INITIAL MONEY IN ACCOUNT:      $ 1.000
FINAL MONEY IN ACCOUNT:         $ 2.497
And that's it! Up to that point, the EA will be able to handle the capital plus the profit perfectly, after this, we want to be very clear on this point: IT IS NOT CONVENIENT, as your risk will increase dramatically.
Don't be greedy, withdraw your profits. If you've already tested it and want to work with two low spread brokers that meet the EA's technical specifications, you can do so.
Configuration Panel:
PLEASE DO NOT TOUCH OR MODIFY ANYTHING IN THE EA, JUST LOAD IT IN GBPUSD IN H1 TF
If you have created a new DEMO or REAL account, you should always open the first trade manually so that the broker enables any robot to make automatic trades. Automatic trading will not start until you enable it with the opening and closing of a manual trade in all Brokers.
MUST READ THIS:
When it comes to scalping, a broker with low spreads is key. Ideally, you should look for a broker with a spread of 1 pips or under 5 pips. It's important to check the spread of your broker before you begin trading.

If your broker has a high spread, the EA will not perform as expected, resulting in lower returns or, in cases of excessive spread, it may not open trades at all.

Using a VPS is not mandatory, but if you choose not to use one, you will need to keep your computer running. If you decide to use a VPS, keep in mind that you will need to ask your broker for recommendations and assistance with installation, a

VPS located close to your broker's server will help to minimize latency

. Note that we do not provide private VPS installation services.
PACKAGE INCLUDE:




EA: Expert, and Guides