Fx Maximus Gold Prime  EA
Forex Mt4 Expert Advisor
PLATFORM:

 MT4




TF: 

H1




PAIRS:

  GOLD (XAUUSD)
MIN DEPOSIT: $1000
BROKER: EXNESS
ACCOUNT: Zero Spread  + VPS (Our Exness customers will get a Fast and Free VPS with no time or deposit limitation by using our link)
LEVERAGE: 1:500
FAST DELIVERY

P

lease read the entire ad, especially the "Insights" section.
Maximus Gold Prime EA is optimized for the Exness Broker, capitalizing on its rapid execution and remarkably low slippage with a 1:500 leverage on the Zero account. Using this robot on any broker other than Exness is solely your responsibility.
Maximus Gold Prime EA utilizes trailing stop loss protection, with the trailing stop set at a distance of 5 pips from the current market price, and it adjusts the stop loss when the price moves at least 75 pips. The risk per trade can be adjusted using the "Risk" input, but by default is 1%, and the EA calculates the lot size based on the account balance and risk settings. Without using Martingale Method.
During the trading hours set between "TimeStart" and "TimeEnd," the EA opens buy (OP_BUY) and sell (OP_SELL) orders based on the market conditions. Additionally, the EA offers averaging capabilities by increasing the lot size using the "UpLot" input.
Maximus Gold Prime EA is 100% automatic, but also provides information and buttons on the chart for users to initiate manual trades (if wanted), both buy and sell orders. Users can monitor the minimum stop level, current profit percentage, account balance, and equity through the displayed information.
Please, be aware that the "Default" configuration has been fully optimized, and as such, no presets are provided, nor should any modifications be made to it.
Please note that using the EA on other brokers may lead to suboptimal performance, as it is specifically tailored to work seamlessly with the Exness platform. Therefore, it is essential to use it on Exness to fully benefit from its designed capabilities.
Now, time to see the results:
The EA's performance has exceeded all expectations. No words…let´s see

.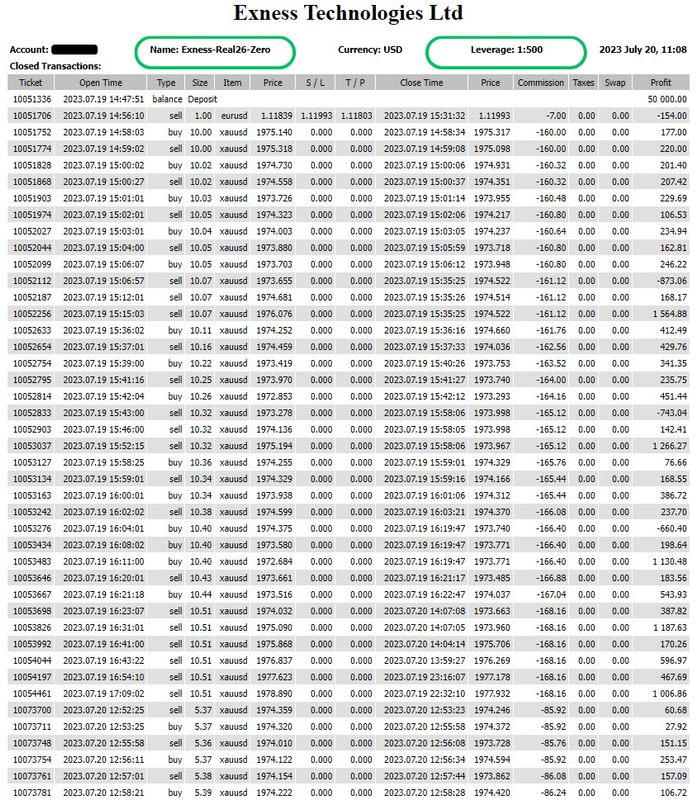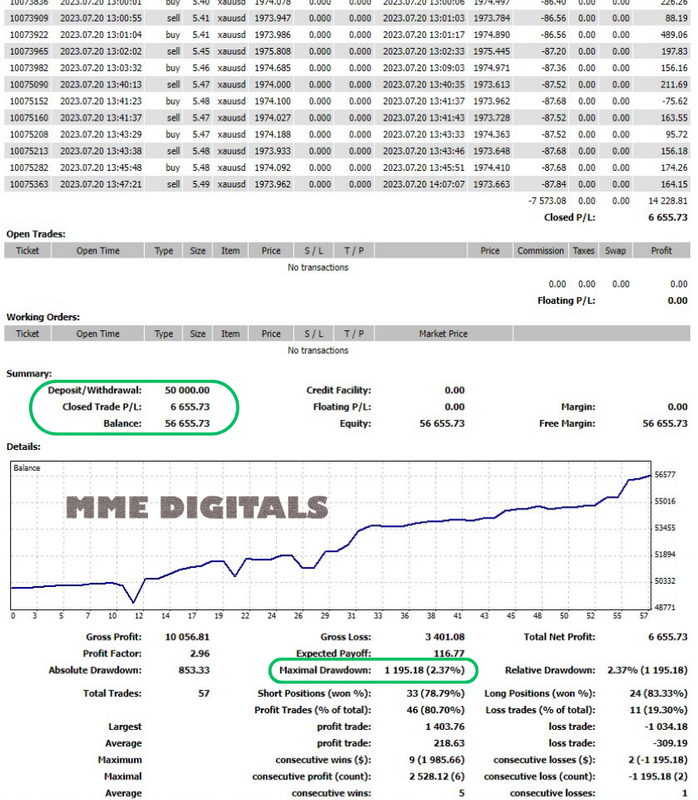 Ok, what? What happened here?
We activated the EA on July 19, 2023, at 14:56:10 (around 15:00 hours)

Later, we deactivated it on the same day, precisely at 17:09:02 because we have to rest

So, it ran for approximately 2 hours on the 19th.
Then, we reactivated the EA (next day) on July 20, 2023, at 12:52:25 (around 13:00 hours).

After running for about 1 hour on the 20th, we deactivated it at 13:47:21 (around 14:00 hours)

So, the EA ran for a total of 3 hours and achieved a profit of $14,228.81. After deducting the commissions ($7,573.08), we were left with a net profit of $6,665.73.
Why do you think we pay such commissions?
Many unprofitable traders will tell us that we are crazy, that they are fine with a Standard account because they pay "less". Well…nope, that is not the case.
Why do you think Zero or Pro accounts exist? For the absent-minded?
No, traders, these accounts are designed to provide certain advantages, including Zero Spread and low slippage, even if it means paying commissions. We understand the importance of these features and are willing to invest accordingly to ensure the execution we need.
Using a high-frequency EA and expecting profits with a 10 or 15-point spread is unrealistic. With such spreads, trades can open far from their intended levels, affecting potential gains. It's crucial to grasp these concepts.
Additionally, traders should be aware that they still indirectly pay through the spread to their brokers. Unfortunately, the exact impact of spread on their trades remains concealed, leaving them uncertain about how much they lose due to it.
So with that said, let´s continue: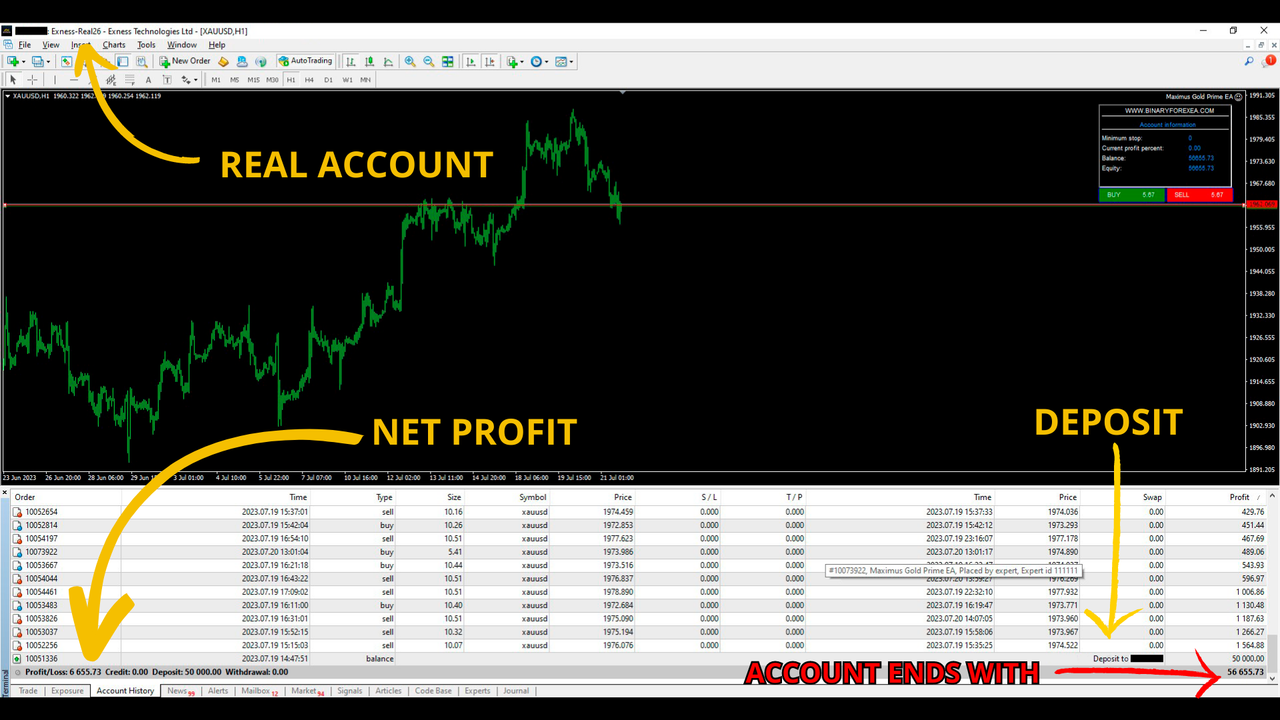 After witnessing Maximus Gold Prime EA's effective management of a sizable capital, let's now explore its performance when dealing with a smaller capital: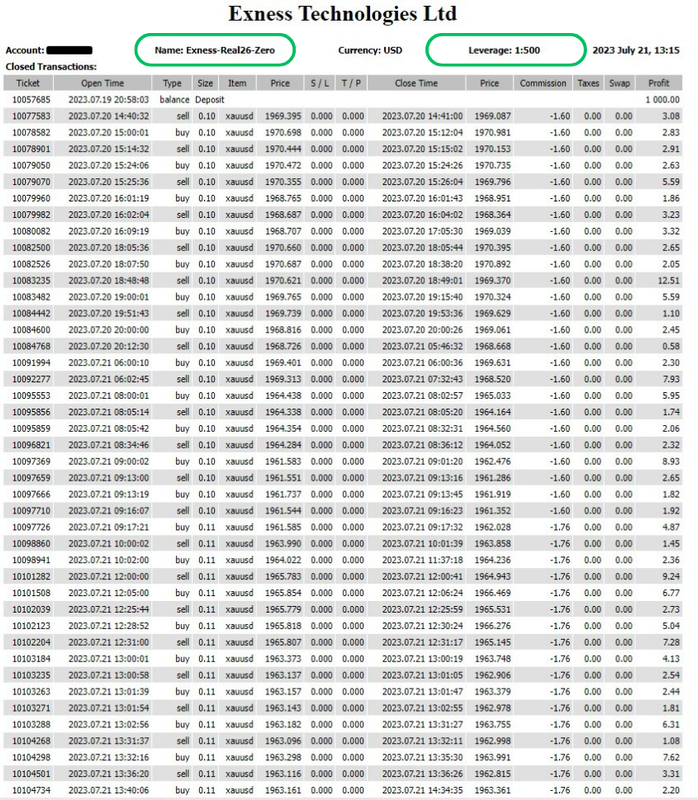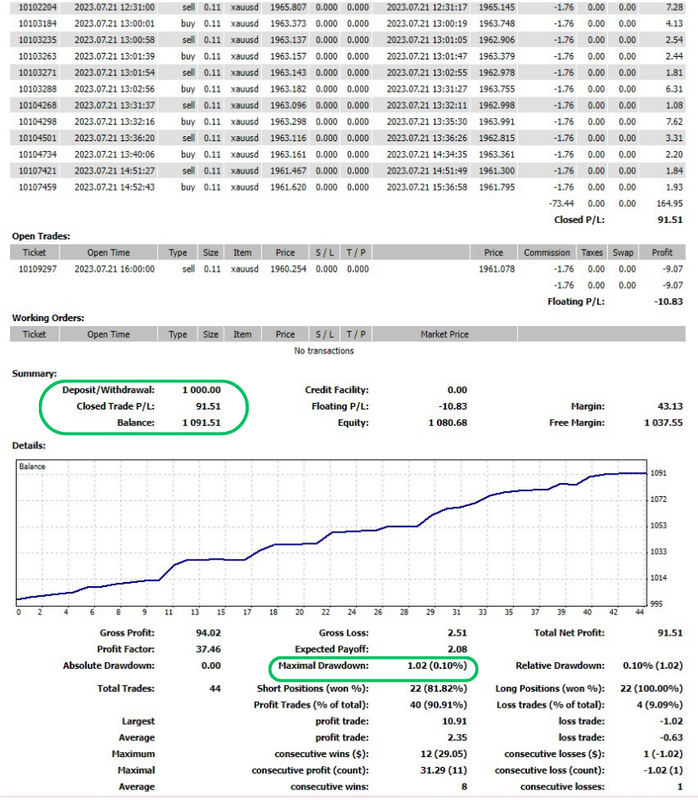 Great! We have allowed Maximus Gold Prime to run on this account for 24 hours to assess its performance with a smaller real capital of $1000.
At the end of 24 hours, the robot had earned $164.95

After deducting the commissions of $73.44, we were left with a net profit of $91.51.
Totally amazing for just one day of trading…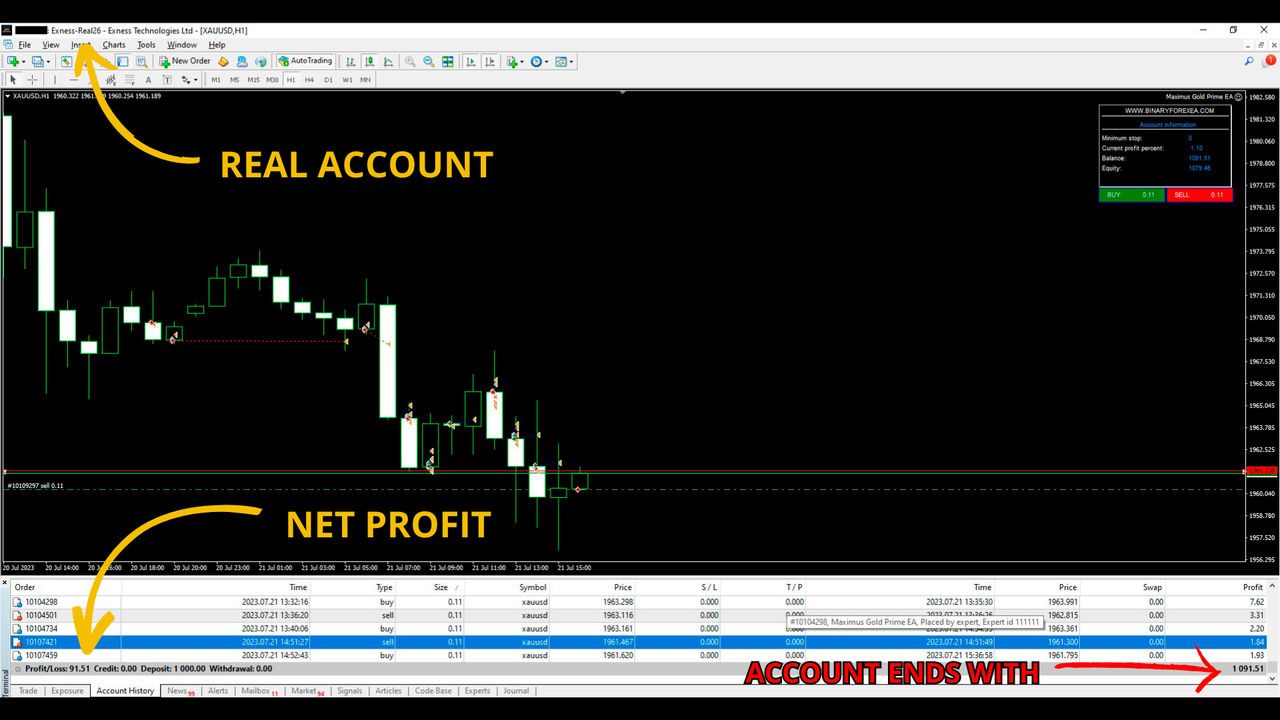 Insights:
It's essential to emphasize that while the EA exhibits a remarkably low Drawdown (DD) as evident in the statement, we have observed occasional drops of 10 to 20% during specific trading moments. Unfortunately, these interim fluctuations are not reflected in the Detail Statement, as it solely displays closed trades and the overall DD at the end of all transactions. We find it crucial to highlight this point to ensure you are fully aware of the actual risks associated with the robot's performance.




 

We highly recommend actively monitoring the robot's performance by checking it once or twice a day. It's important not to succumb to greed and consider withdrawing your profits regularly. Additionally, if you are using a large account with substantial capital, we advise against taking unnecessary risks. Limit your usage to a few hours a day to ensure prudent and responsible trading practices.




 

We cannot stress enough the importance of using a fast-running Zero Spread account specifically tailored for this robot's optimal performance.




 

This EA CANNOT be backtested. Attempting to do so will result in an error message: "Testing pass stopped due to a critical error in the EA." Please run it on a Demo account until you fully understand its functionality.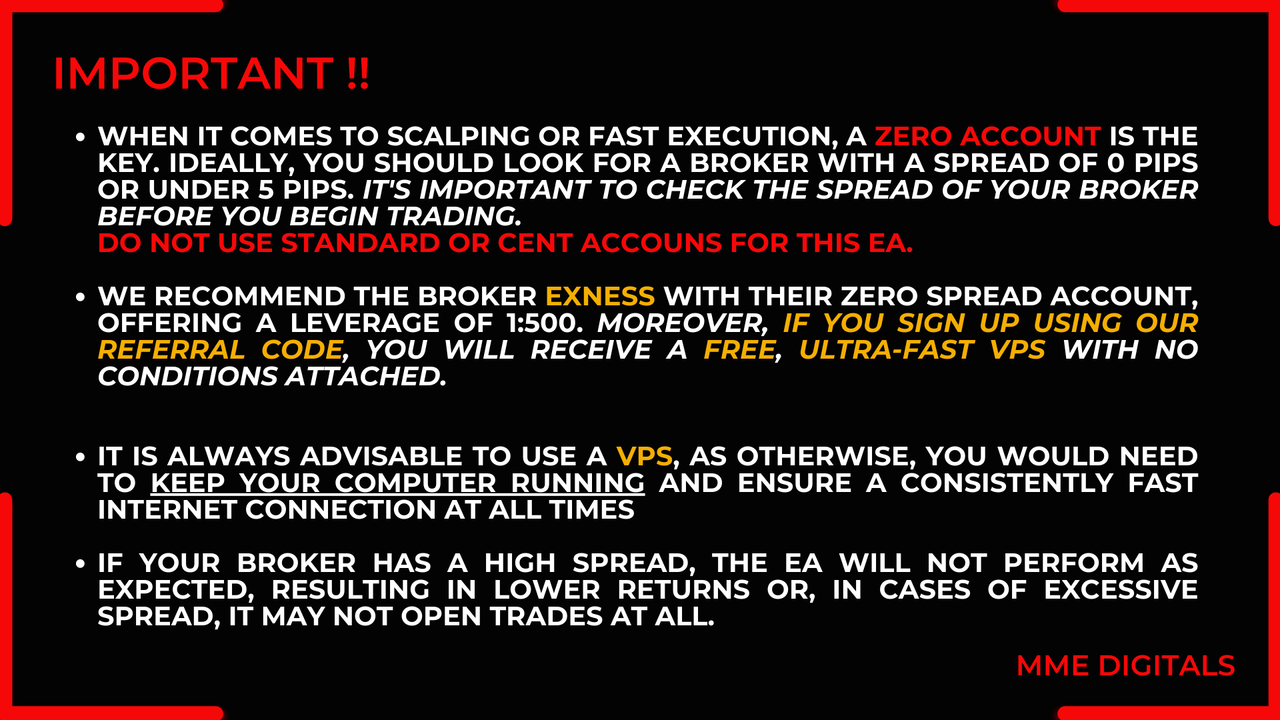 PACKAGE INCLUDE:




EA: Expert, 3 Presets and Guides will be sent

in a compressed folder through a download button and to your email.
2023 © MME DIGITALS-BINARYFOREXEA