THUNDERDOMINATOR EA – BINARYFOREXEA
Forex Mt4 Expert Advisor
PLATFORM:

 

MT4
TF:

 

M1
PAIRS:

 

EURUSD + GBPUSD + XAUUSD (GOLD)
MIN DEPOSIT: $1000 PER PAIR IN ECN OR ZERO SPREAD ACCOUNT
HOURS: AROUND THE CLOCK
LEVERAGE: 1:500
BROKER: ROBOFOREX ECN – OR ANY ECN-ZERO SPREAD ACCOUNT  – Using Standard or Cent account will make your DD higher.
NEW UPDATE WEDNESDAY, 15 10:01 AM.
+830.71 DOLLARS


ON REAL ACCOUNT
IN LESS THAN 4 TRADING DAYS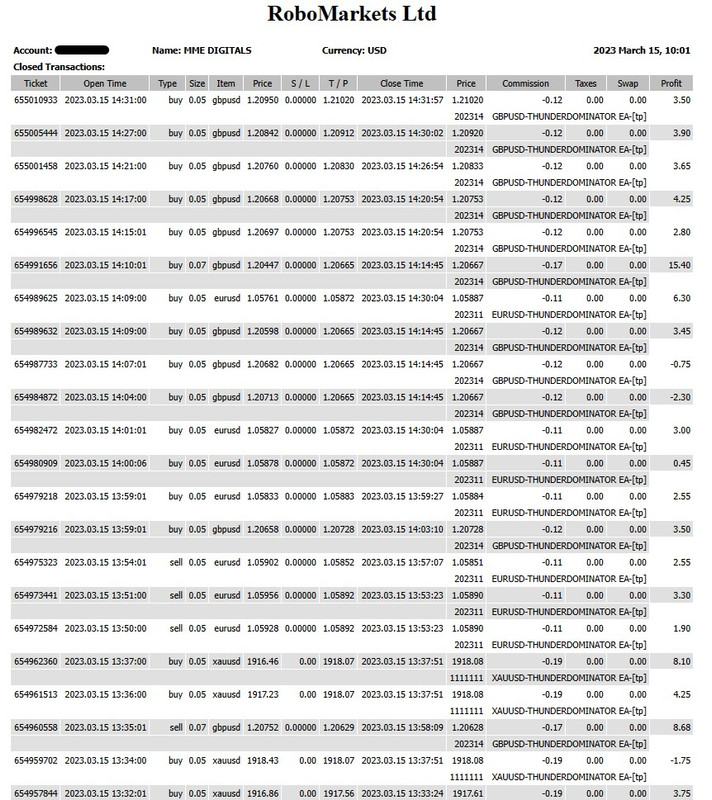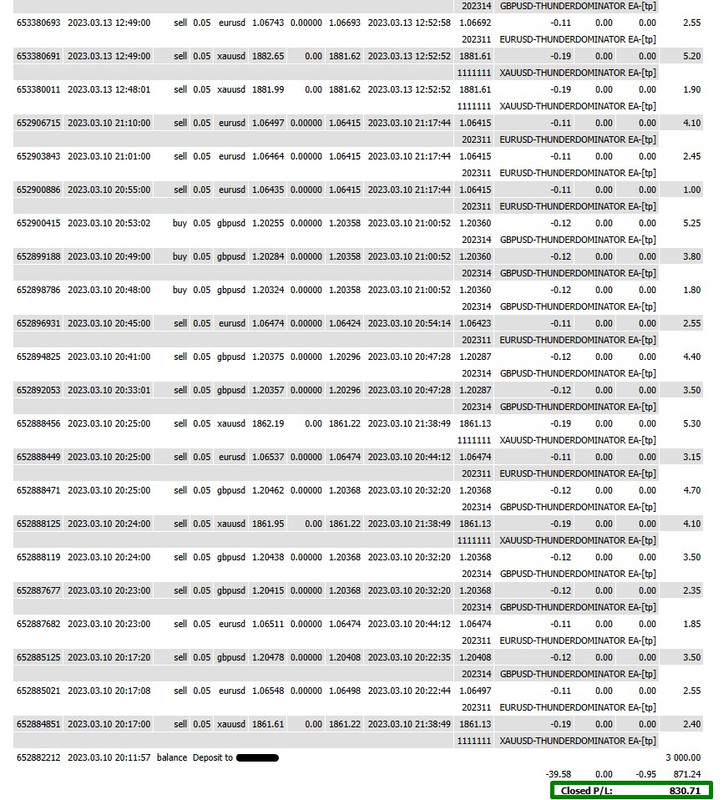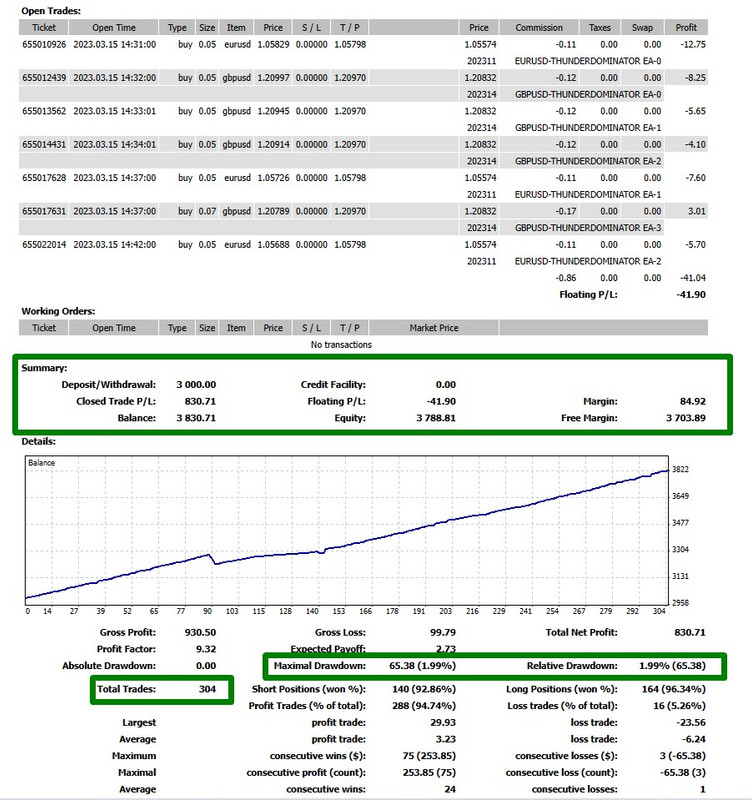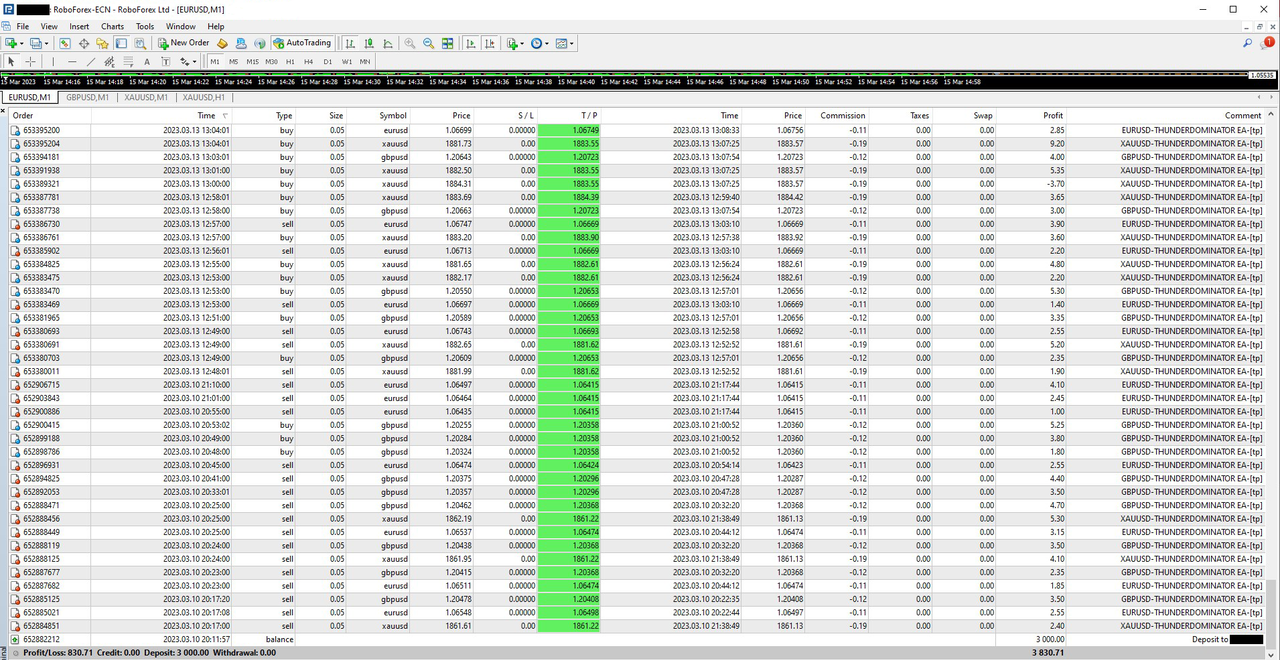 To ensure effective trading, our robot has strict technical specifications:
HARD WORK: The robot is designed to only execute  a max of three trades at a time per pair. This helps to prevent excessive drawdown and ensures that the robot trades effectively and constantly.

NEWS FILTER: By default, the news filter is enabled. However, you can disable it with a single click if you choose to do so.

SIDE MARKET FILTER: This filter is activated by default and enables the robot to switch to a different trading strategy or refrain from trading altogether if it detects that the market is erratic or meaningless. This is one of the best filters for any EA, as it helps to avoid unnecessary losses. As soon as the market stabilizes, the robot will resume trading.

EFFECTIVENESS: The robot does not leave any open or pending trades.

SECURITY: The maximum risk per trade is limited to 2% of the account balance on EURUSD and 5% on GBPUSD and XAUUSD, and this is also activated by default.

MONEY IN ACCOUNT: It is recommended to use $1000 for each pair you want to trade (3 pairs= Initial capital= $3000) This helps to keep the drawdown low. It is not recommended to work with less capital per pair than this.

SPREAD: The best results are obtained with an ECN or zero spread account. It is not recommended to use the robot with accounts that have high spreads like common "Standard or Cent" accounts, as it is designed to execute ultra-fast trades. It is recommended to open a demo ECN account with Roboforex to understand how small the commissions are in relation to the profit per trade. Using Standard or Cent account will make your DD higher.

DAILY TARGET: The daily target has been set to $100 per day. However, you can modify these parameters to suit your trading style. Be realistic and choose a value that works for you, so you don't take more risks than necessary.

LOT MULTIPLICATOR: We have decided to deactivate it by default, consequently, all trades will open at 0.05. But, since the robot only executes three trades at a time per pair, we have made "Lot Multiplicator" optional for those who prefer the second or third trade to have a higher lot, but we strongly advise against setting it higher than 1.21. To activate this option, simply change the value of Averaging from 1 to 2. This would result in the first trade being executed at 0.05, the second at 0.06, and the third at 0.07.

HIDDEN TP: The TP is hidden by default, as it may be necessary if you do not have an ECN account. If you are trading on an ECN account, you will not need to hide it from the broker.

INVISIBLE MODE: This function is activated by default, and your broker will not be able to see your SL. If you are not using an ECN account, this option is essential, as the broker will not know where you have placed your stop loss.

BACKTEST: This EA can not be backtested this EA due to the presence of a news filter and an erratic market filter, which cannot be accurately replicated during backtesting. Instead, it is suggested that you allow the EA to run on a demo account for several days to observe its performance and gain a better understanding of its operation. Only switch to a real account when you feel confident with the EA's performance. It is important not to modify the parameters. If you attempt to conduct a backtest, you will receive the following notification: "THUNDERDOMINATOR EA GBPUSD,M1: Alert: This EA cannot be backtested. It is advisable to let it run on DEMO for a few days."
REAL ROBOFOREX ECN ACCOUNT DETAILED STATEMENT
Money Deposited: 3000 USD
Pairs to be used: EURUSD – GBPUSD – XAUUSD
– From Friday Afternoon.
We have not stopped it either at Friday's closing or Monday's opening (we left autotrading activated).
– Until Monday Afternoon.
Money obtained in 1 day of trading:
305.08 USD
Max DD 1.99%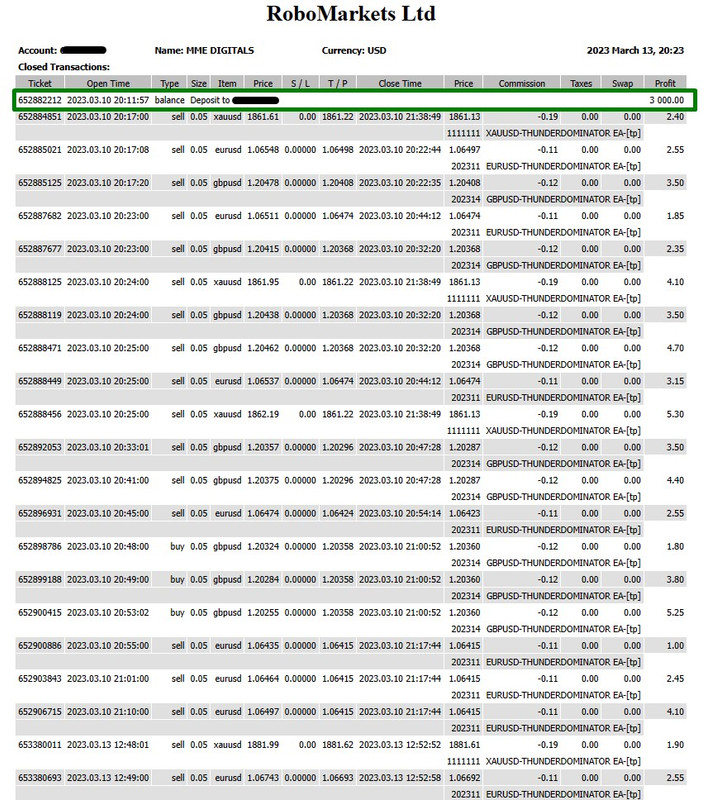 SOME TIPS:
This EA doesn't execute trades randomly or constantly; it operates only when the market is at its optimal conditions, so, if you notice that the EA has not opened any trades on any of the three pairs for some time, please be aware that this is not due to the EA malfunctioning. Rather, it is because the current market conditions may not be suitable for trading, such as during times of news releases, sideways markets, or erratic market behavior. Although it is possible to disable these filters and run the EA constantly, we do not recommend doing so.
Please note that if you adjust the Daily target, the EA will stop trading that particular pair once it reaches the designated amount. For instance, if you set a Daily target of $20, the EA will cease trading that pair once it hits that amount, and will not resume trading until the following day.
The number of trades that this EA opens each day can vary depending on various factors such as market conditions and the particular day, typically ranging between 40-80 trades per par per day. However, this number may be higher or lower depending on these variables. (High frequency, but not crazy frequency)
Configuration Panel:
It is recommended that you do not make any changes to the presets. Simply load the appropriate pair preset (EURUSD, GBPUSD, or XAUUSD) and set the timeframe to M1. Please refrain from modifying any other settings.
MUST READ THIS:
When it comes to scalping, a broker with low spreads is key. Ideally, you should look for a broker with a spread of 0 pips or under 5 pips. It's important to check the spread of your broker before you begin trading. Do not use Standard or Accouns for this EA.

If your broker has a high spread, the EA will not perform as expected, resulting in lower returns or, in cases of excessive spread, it may not open trades at all.

Using a VPS is not mandatory, but if you choose not to use one, you will need to keep your computer running. If you decide to use a VPS, keep in mind that you will need to ask your broker for recommendations and assistance with installation, a

VPS located close to your broker's server will help to minimize latency

. Note that we do not provide private VPS installation services.
PACKAGE INCLUDE:




EA: Expert, 3 Presets and Guides will be sent