SRF PRO EA – Forex Mt4 Expert Advisor
PLATFORM:

 

MT4




TF:

 

H

1 (RECOMMENDED) , M30, H4




PAIRS:

XAUUSD (RECOMMENDED) BUT ALL PAIRS




MIN DEPOSIT:

 

$1000 PER PAIR




HOURS:

 

AROUND THE CLOCK




LEVERAGE:

 

1:500




BROKER TYPE:

SCALPING – ULTRA LOW OR ZERO SPREAD
SRF PRO EA  is a fully automated system that uses advanced algorithms to analyze market conditions and make trades on behalf of the user. It works based on a top-bottom reverse trading strategy along with a grid, inner smart indicators signals, and news filter as its trading strategy. The EA has been designed to work with the MetaTrader 4 platform and is suitable for novice and experienced traders.
One of the key benefits of the SRF Pro EA is its ability to handle different market conditions. It has various features enable it to adapt to changing market dynamics, making it a powerful tool for trading in volatile markets.
Another essential feature of the SRF Pro EA is its auto stop/take profit function. This feature ensures that trades are exited at the right time, preventing losses from spiraling out of control.
Overall, the SRF Pro EA is a reliable and effective trading tool for the forex market. Its advanced features and ability to adapt to different market conditions make it a popular choice among traders of all experience levels. If you are looking for a powerful and effective trading robot, the SRF Pro EA is definitely worth considering.
This EA uses high-frequency trading techniques, which allow it to execute a significant number of trades – typically between 35 and 45, subject to daily variations and market conditions.
Although compatible with all currency pairs, we have focused towards XAUUSD (Gold) and optimized a preset configuration specifically for this pair:
XAUUSD H1:  90% MODELLING QUALITY

+ 77% NET PROFIT

-DD 19%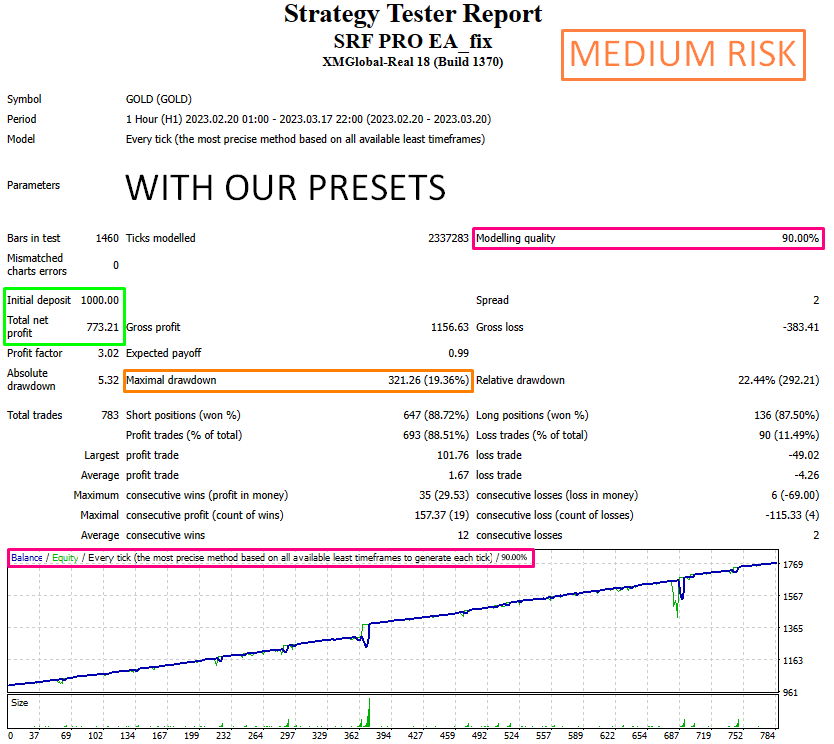 Given the high volume of trades and associated modifications per order, we will show you the latest ones: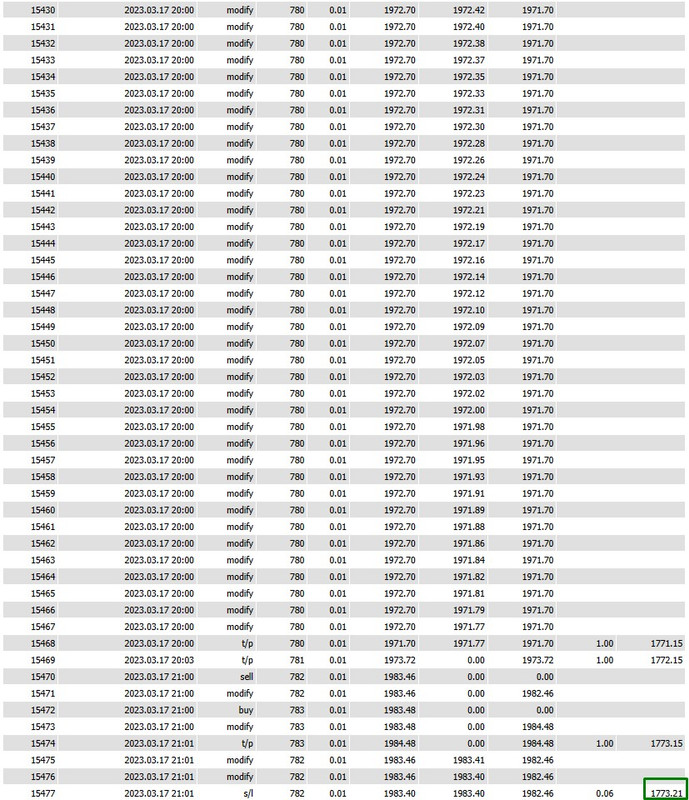 Let´s see some LIVE TRADES: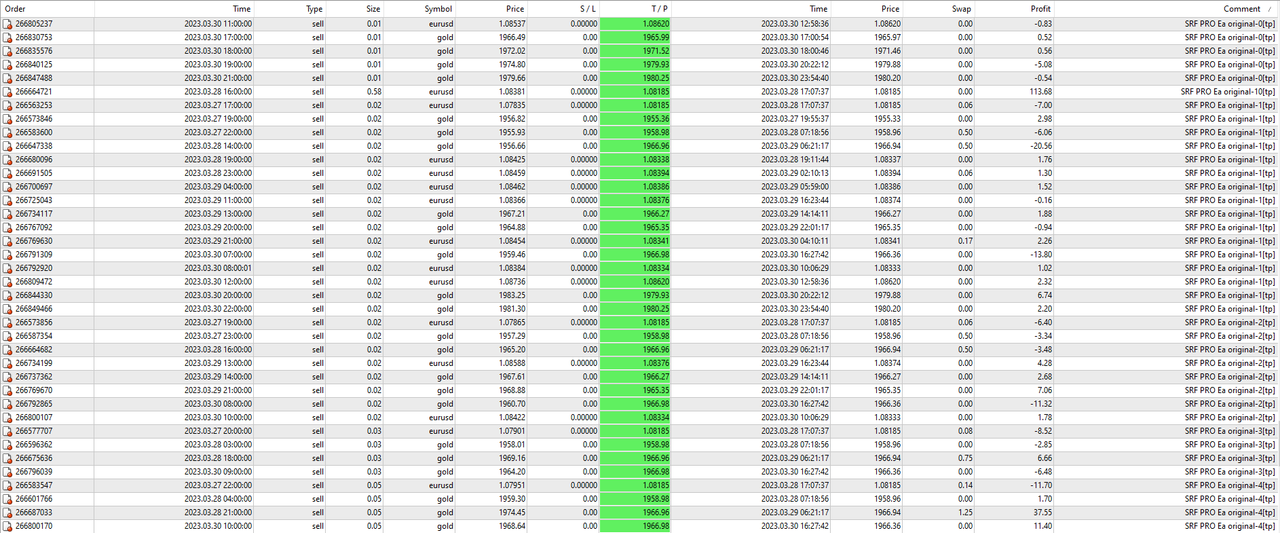 Configuration Panel:
NO NEED TO MAKE COMPLEX CONFIGURATIONS, EVERYTHING IS ALREADY CONFIGURED, YOU ONLY HAVE TO LOAD

XAUUSD PRESET FILE INCLUDED.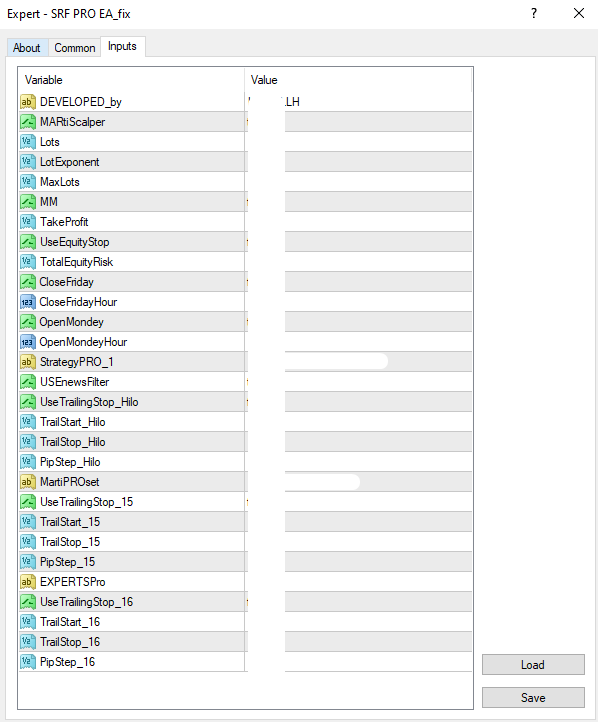 Recomendations:
Broker:

You should have a Scalping broker with 0 Spread or very low Spread, or one that pays per lot traded and has no Spread. If you have a broker and you do not know its Spread, you should find it out beforehand. IF YOUR SPREAD IS HIGH THE EA WILL NOT OPEN TRADES.


VPS: Not Required – But if you want, use a VPS or a hosting server with minimum network latency with respect to the broker's server -It is always good to use the VPS recommended by your broker as they will work well with each other.
THIS PRODUCT IS OFFERED AT A SIGNIFICANT DISCOUNT BECAUSE IT DOES NOT CONTAIN ANY ADDITIONAL SERVICES FROM THE SELLER.
Package include




EA – Expert, Manuals & 1 Preset will be sent